Monastic Tour 2023 – Week Two: Brighton
On 15th May our dear monastic Brothers and Sisters visited Brighton and offered an Evening of Mindfulness "Living Mindfully. Deepening Our Love for Ourselves, Others and the Earth".
Nearly 170 people sat together in meditation, in community, in listening deeply to a nourishing talk by Sister Tam Muoi and a Q&A session that touched many hearts.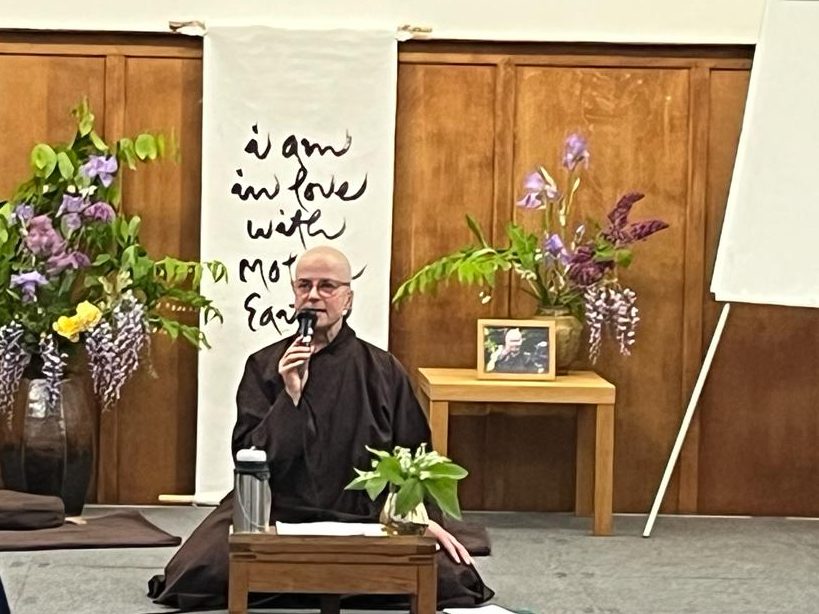 Here is what organisers and participants shared after the event:
"Brighton in May is festival season and the city is bursting to the brim with 100's of choices of events and performances of all kinds. Despite that we had a completely full house of 170 people right in the heart of the city at the Quaker's Friends Meeting House. We've had so much overwhelmingly positive feedback already from many friends who have said in their messages it was "special", "joyful" and "wonderful". People have been deeply moved and have benefitted greatly from being able to practice together and from the "wisdom", "kindness" and "sharing from the heart of the Brothers and Sisters".
I am so happy and grateful to have had the opportunity to welcome the Brothers and Sisters, help organise this event with so many others and be in the company of the monastics. It feels like a true blessing to experience their presence firsthand because they are our role models as close students of Thay. It feels both nourishing and blossoming at the same time after being with them and practicing together. I would not have wanted to be anywhere else, despite all else happening around the bustling town. This felt like home." Andy Baldwin, Pebbles Sangha Brighton
'The dharma talk was excellent and the q & a session so helpful. I loved the monks and nuns relaying their personal stories and offering practical insights; could easily have spent many more hours listening to them. Such heartfelt wisdom. I'd love to listen to it all again.' Participant
'It was such a special evening and such a good venue in so many ways. It was lovely to see so many different kinds of people there and I was impressed by the effortless way the evening flowed. And I was very touched by the monastics presence and their sharing from the heart.
A deep bow to everyone involved and for helping to make it come together in a way that really reflected the goodness of sangha.' Sarah
The joy, nourishment and inspiration continues, with Monastics offering a Day of Mindfulness in Cambridge today before heading to Leeds to offer How to stay Zen in the heart of the Storm event, the Mindfulness, Music and Mother Earth Retreat in Windermere, Living with Compassion and Freedom Retreat in Hebden Bridge this weekend, Mindful Walk&Picnic and Finding Stillness amidst the Storms of the World Talk in Durham.
photos by Pebbles Sangha Brighton