for *People of Colour / Black Asian Minority Ethnic / BPoC/ Mixed Racial Heritages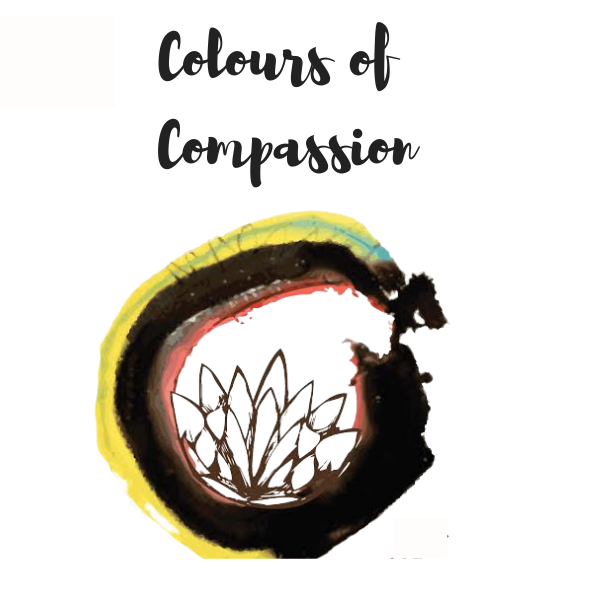 Dharma spaces for touching true belonging and celebrating our roots
Our practice
Our sangha creates a healing refuge where we as *People of Colour (PoC) can bring ourselves fully into safe practice environments, to touch our wholeness and heal the traumas of being marginalised. We come together to celebrate our heritage, our ancestors and shared humanity.
These spaces allow for us to truly come home to ourselves as we dig deeper into our roots, to look deeply into, heal and understand different aspects of ourselves and our identities that we may not have opportunities to connect with in general dharma spaces, or that may have been cut off and neglected in social environments where we have been taught to assimilate.
To be able to go home to ourselves and touch interbeing, we have to understand who we are and where we come from, and to honor all our ancestors who have contributed to where we stand today. By having safe spaces to tell our stories and deeply listen, we learn to celebrate our diverse experiences and shared humanity, we touch a deeper sense of belonging, helping us to heal the wounds of racism and deepen our understanding of our suffering.
Our practice is social justice from a heart of love and compassion. We draw support from our collective practice of sitting, walking and breathing to embrace the anger and pain within us, and to heal our experiences of racism and alienation, so we can engage with the world in more open hearted, inclusive and forgiving ways.
We practice to deepen our spiritual roots in the Plum Village / Zen master Thich Nhat Hanh tradition and to find an authentic expression for our practice that can take root in our own cultural identity that includes our own experiences in the world. Along with the teachings of Thay, we also connect with and listen to PoC teachers from many other traditions around the world who teach the dharma of social justice and healing racism.
Colours of Compassion  is a sister community of the White Awareness sangha, which was formed by close friends and allies to support white-identified practitioners to explore their culture, identities and actions in a racialised society.  Learn more about their work here.
Online meetings and contact
CoC sangha currently meet weekly on Tuesdays, online via Zoom, 19:00 – 20:30pm UK time, with arrival at 18:55. Register for Tuesdays
CoC email: We periodically check emails as we are all volunteers, please expect to wait a week for responses: coloursofcompassion@gmail.com
Mailchimp/WhatsApp group: If you'd like to stay in touch with CoC sangha news, you can register to receive the monthly Mailchimp news and/or join the CoC WhatsApp group, please send us an email with your name and mobile number.
Caretaking Team:  In March 2021 a caretaking team was formed with self-appointed members to support the development of CoC Sangha in the UK, They are Anh, Kareem, Nasreen, Renuka & Vidya and with other active members supporting in the background.
A visual history
The Colours of Compassion sangha was established at our first UK residential retreat in the spring of 2015, as the fruit of our friendship, aspiration, and many conversations between Renuka Bhakta, Dene Donalds, Kaira Jewel Lingo, Sita Brand and Jassy Denison. The name Colours of Compassion comes from the title of the historic first retreat for PoC held at Deer Park monastery in 2004 in US, over 500 people attended led by Thay and monastics.
Dharma teachers Kaira Jewel Lingo and Dene Donalds have been the main guiding retreat teachers, mentor and supporters of our sangha, helping it to bloom and continue through the years. Our community is also supported by the energy and many loving efforts of many PoC practitioners, Order members and allies.
Colours of Compassion sangha formed at the first retreat in 2015 at Mickelpage, Sussex, UK: Honouring Our Ancestors, Building the Beloved Community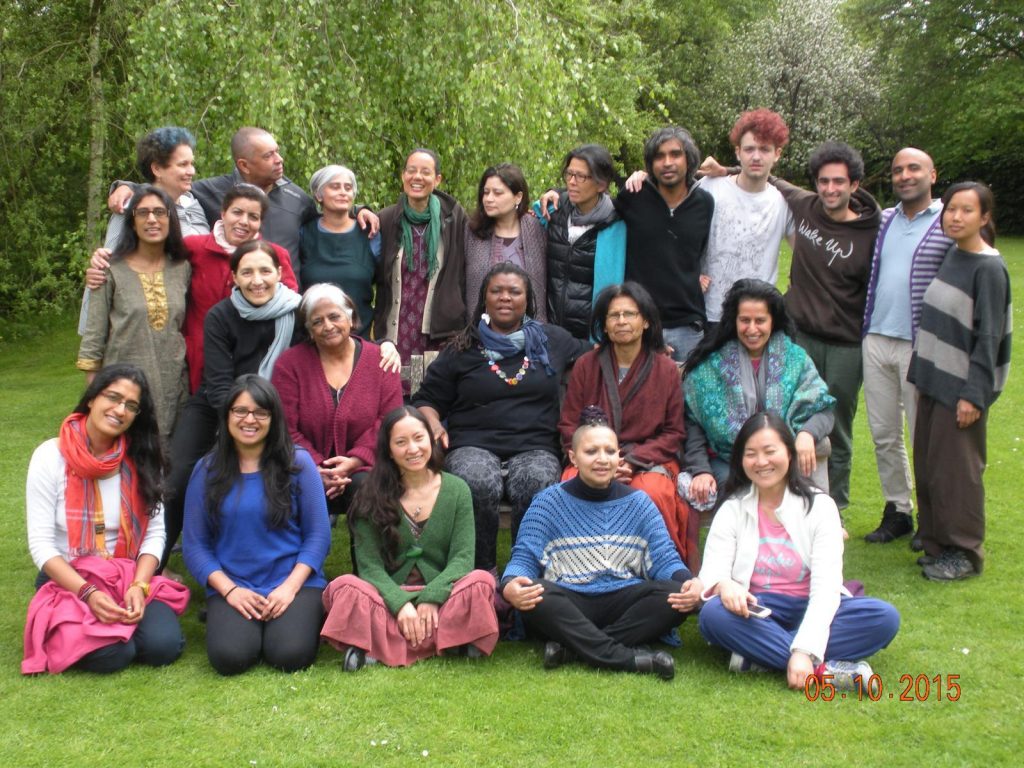 2nd retreat in 2017 at Mickelpage Sussex, UK: The Path of Compassion & Wisdom: celebrating our fullness in uncertain times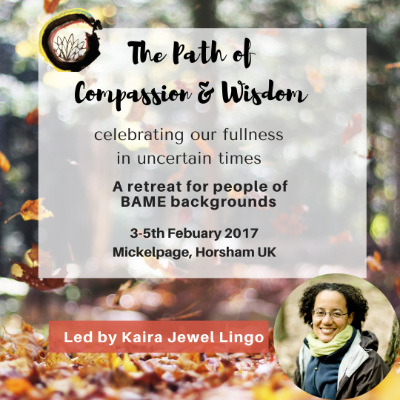 Our 3rd retreat in 2018 at Mickelpage, Sussex, UK:
Healing Ourselves, Healing the World: A path of self care and engagement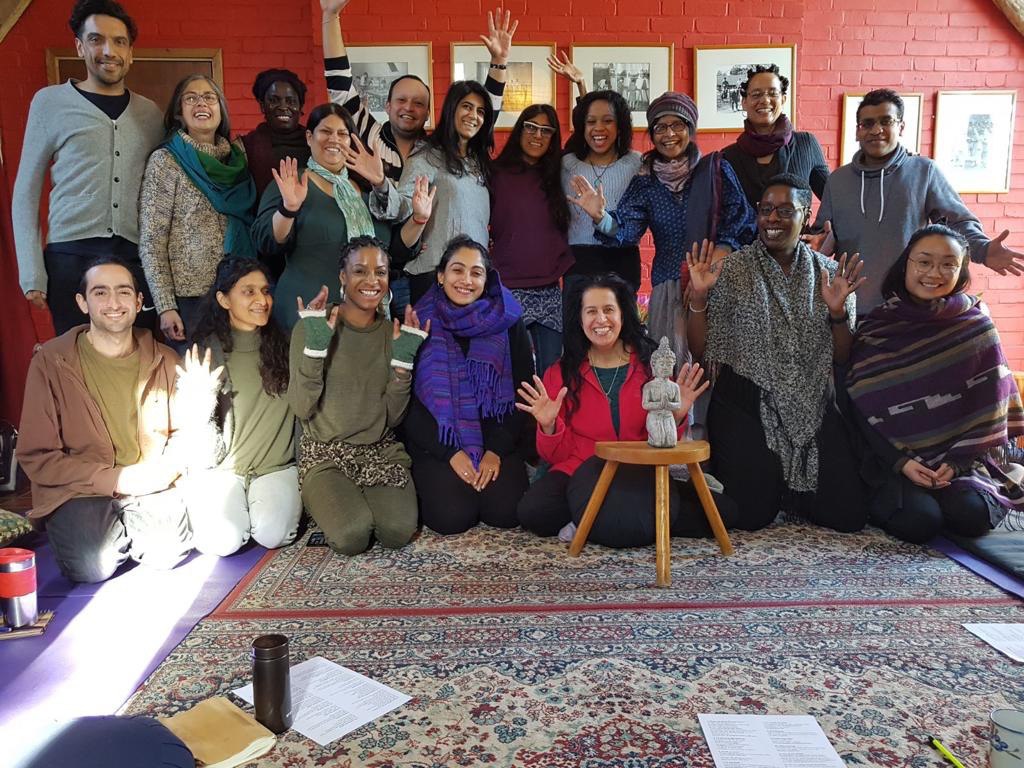 Weekly and Monthly Sangha meetings in Hops Garden, London from 2018 onwards
Gatherings included evenings of practice, be-ins to celebrate our cultures and ancestors, tea ceremonies, ancestral ceremonies and touching the earth. CoC sangha have also hosted evening gatherings for Lama Rod Dharna teacher for mixed practicing communities.
We continue to grow,
uniting together as one.
In addition to being part of the Colours of Compassion Sangha you may also enjoy attending a sangha near to where you live and the UK-wide sangha events. You can find the list of local groups here and Plum Village UK events here.