Here is Bulldog Max, honing his zoom technique in readiness!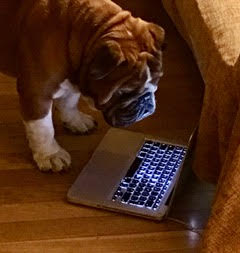 Bring your dog to have their 2 minutes (and yours!) in the spotlight, or simply come as an audience member to join in this fun-with-fundraising event in aid of the Being Peace Practice Centre, a centre for Plum Village mindfulness in the UK.
Non-judgement will be practised.  All four-footed participants will receive a dharma name, a certificate to celebrate receiving the Four-Paw Mindfulness Trainings and an opportunity to offer a quote for publication in an e-book.
How to attend
Entries limited – audience numbers unlimited.
Further details re registration, programme, merchandise, practice elements etc. will be posted in due course.  
Meanwhile, please address any enquiries or to reserve a spot to:  beingpeace@plumvillage.uk remembering, please, to use 'Dharma Dog Show' as the subject of your email.
( . . . and here is a link to a well-known vintage song . . . https://youtu.be/safoNysTrbE)
Coming Soon