The international community is coming together to share a message of peace. For the first time in the UK, we will be offering the opportunity to join this short mindfulness walk.
JURASSIC COAST TREK 3 DAYS (2 NIGHTS)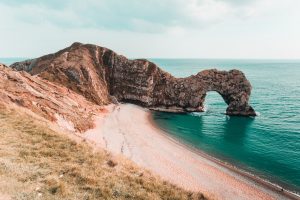 Dates available in 2024
This is a fully supported challenge with food, accommodation and guiding, pickups from local train station included. Stretching 95 miles between Old Harry Rocks in Dorset, to Orcombe Point in East Devon, the Jurassic Coast – England's first Natural World Heritage Site – is the most geologically diverse coastline in the world. With a more recent history of mining, shipwrecks and smuggling, this is a fascinating stretch of coastline. This trek takes in some of its most spectacular scenery, from the renowned natural stone archway of Durdle Door to the beautiful circular Lulworth Cove, as we continually climb and descend the steep hills of the Jurassic Coast.
Full Funded – £80 registration fee, £320 trekking fee.
Every penny of fundraising you do on top comes to Plum Village UK.
To apply or find out more please contact us beingpeace@plumvillage.uk or visit https://www.discoveradventure.com/challenges/jurassic-coast-weekend and mention you are supporting Plum Village UK.
SNOWDON BY NIGHT (2 DAYS, 1 NIGHT TREKKING)
2023 and 2024 dates available
Fully supported with mountain leader and back up. Hot drinks before ascent and celebration breakfast at the end; some snacks on the mountain. Snowdonia National Park in North Wales is synonymous with beautiful, rugged landscapes and wonderful trekking and outdoor pursuits. The highest mountain in England and Wales at 1085m, Snowdon's Welsh name is Yr Wyddfa, reputedly the burial place of a mythical giant. A popular summit trek by day-time, it forms a real challenge by night. The base for this challenge is a friendly hotel, which makes for a comfortable, sociable start to the challenge as we tuck into fantastic food and get to know each other. At the end, we gather back together in the warm and celebrate our overnight achievement with a tasty breakfast!
Fully Funded £49 registration fee, £175 tour cost.
Every penny of fundraising you do on top comes to Plum Village UK.
To apply or find out more please contact us beingpeace@plumvillage.uk
Top Tips and the nitty gritty
Most fundraising starts life with the seed of an idea. We are here to help you make the most of your fundraising so please contact us to find out more. Fundraising can feel daunting, but there are lots of ways to make it manageable and joyful. If you are stuck for ideas, but have a talent or drive to do something we can talk it through. We are planning to set up a helpline
Here are a few tips….
Tell others about your event, use email, posters, and promote on any social media channels you are on. Tag us #plumvillageuk @plumvillageuk and we may be able to share your plans.
For any fundraising posters or if you are providing information about your event please include the following: 'In aid of Plum Village UK, registered as The Community of Interbeing UK (Charity Number 1096680)'
Set up a fundraising page on Just Giving, send the link to your friends. It's an easy way to spread the word and enable friends to donate to your fundraiser. www.justgiving.com/thecommunityofinterbeing
If you work for a company your employer may match fund any money you raise. We can help with the paperwork if you can apply!
Don't forget to gift aid it. If you are donating your own money and you are a taxpayer, don't forget to gift aid it. We get an additional 25% on your donations at no extra cost to you. Thank you for your interest in fundraising for the Plum Village UK Being Peace Practice Centre
Thank you for your interest in fundraising for the Plum Village UK Being Peace Practice Centre