Mindful Morning – Sunday October 1st 2023 | 10:00 – 12:00 hrs London Time
How can our practice support us during a health crisis? When she was diagnosed with cancer in 2014 Katie found solace, wisdom, support and practical guidance in the teachings of Thay and the presence of her Sangha. Her account of those first few moments of diagnosis now forms one of 32 short stories of healing and transformation inspired by Thay in a new book, 'Tears Become Rain'. Already available for pre-order, it will be published on Oct 10th by Parallax Press, with all proceeds going to the Thich Nhat Hanh Foundation.
About Katie Sheen
Katie is a founder member of the 'Be Calm, Be Happy' course leaders' team, and has been practising in the Plum Village tradition for over 10 years. Eternally grateful to have had an established mindfulness practice before her diagnosis, she has since trained as a Breathworks accredited mindfulness teacher specialising in mindfulness for pain management, anxiety and health conditions. This Mindful Morning she will read her published short story, and then share some of the key Plum Village practices that supported her throughout her cancer treatment and recovery.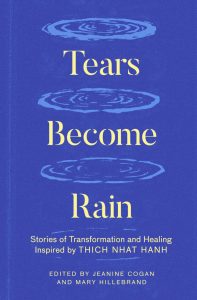 How to attend
Register for our Mindful Morning mailing list and receive the Zoom meeting link to all our Monthly Mindful Mornings.
Register now