Photo by Sergey Pesterev on Unsplash
17:00 to 18:30 UK time | December 3rd | Cultivating Our Bodhisattva Qualities
Talk with Q &A with Dene Donalds – Dharamcharaya
'The techniques for building a sangha are half smile,
walking meditation, stopping (Samantha)
and abiding in the present moment.
When we build on these foundations, we can help others.
Most important is that the sangha be happy, nurturing and stable.'
Thich Nhat Hanh -2006
About Dene Donalds
Dene was ordained by Zen Master Thich Nhat Hanh in 2007 into the Order of Interbeing and as a lay Dharma teacher in 2016.
Dene has been practicing and studying the Dharma since the mid nineties. He visited Plum Village for the first time in 2001. Deeply moved by the practice and teachings of Thich Nhat Hanh, he chose to receive The Three Jewels and Five Mindfulness Trainings of the Plum Village community.
Dene offers Thays teachings and Buddhist Chaplaincy within Prisons and helps manage a social enterprise facilitating advocacy and co-production with people with learning disabilities and autism. He practices with The Heart of Transformation and Colours of Compassion Sanghas.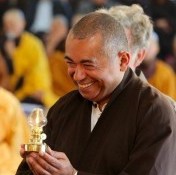 How to attend
This event requires registration to attend.
Register now