How to run a successful fundraising event – from White Clouds Sangha
White Clouds Sanga in Bristol organised a very successful garden party in June 2023 to come together as a sangha/group of friends and raise funds for Being Peace Practice Centre.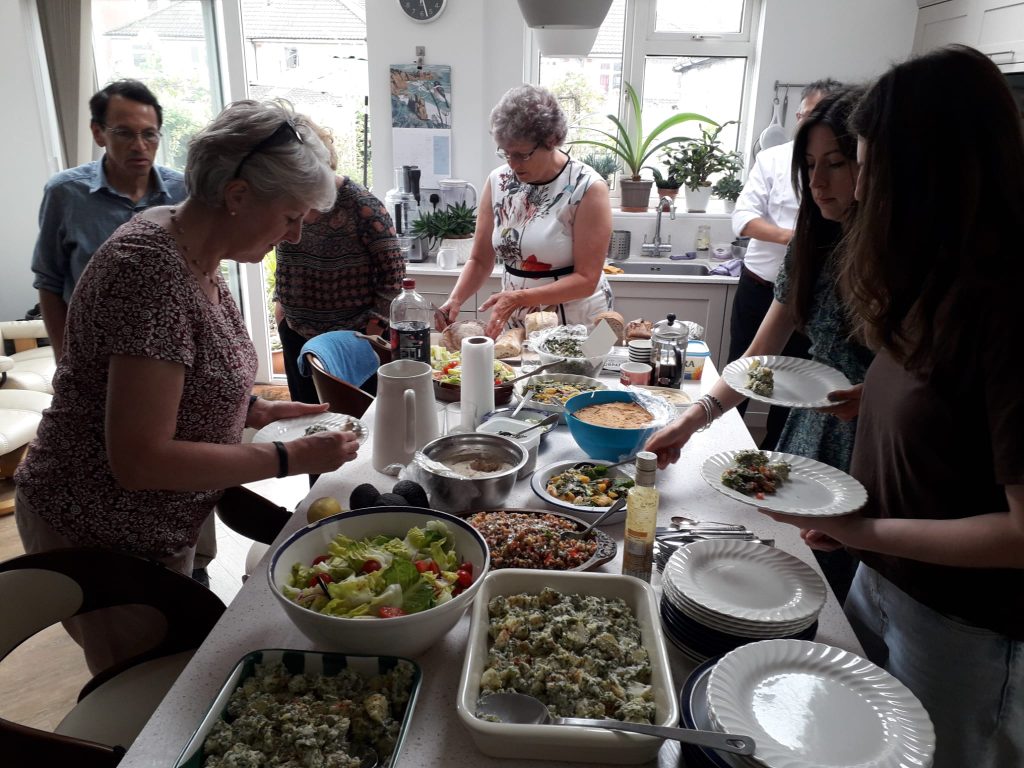 Preparation started in February, when a date was set and sangha members were invited to attend and contribute. Hilary offered to host the event in her garden and sangha members offered to bring extra tables, chairs and crockery. Wet weather arrangements were agreed and a 'save the date' email was sent to the sangha mailing list, neighbouring sanghas and people who had attended days of mindfulness.
Nearer the time, an attractive flyer was designed and the event was publicised via social media and direct email. PVUK Treasurer Jonathan Edwards, advised the sangha to set up a JustGiving page. This is very easy to do – the money goes straight into the BPPC Practice Centre fund and people can gift aid their donation. To set up your own fundraising page, click here: http://www.justgiving.com/thecommunityofinterbeing

4 weeks before the event, the organising group of 4-5 people met online to plan in detail. The meeting was arranged an hour before the sangha's normal evening meeting time, which made it easier for everyone to attend. The group ran through what was needed on the day and who would bring it. The event had been advertised as an all-day brunch and the group ensured there was a good balance of sweet and savoury vegan food.

On the day, set-up started at 10am and everything was ready for guests by 11am, Throughout the day, people came and went and the greatest number at any one time was around 30-40, with a total over the day of 50-60 guests, which meant there was plenty of time to talk to people. Behind the scenes, one sangha member spent the whole time in the kitchen, organising washing up so there were always enough clean plates and to answer the door.
A table was set up with info about Being Peace Practice Centre with booklets on Enjoying your Practice, dana bowl, a laptop to access the JustGiving page, leaflets on BPPC, some books from PVUK bookshop and some were bought during the day.

At 4pm it started to rain and people who were still there helped to clear up, pack away the furniture and wash up. By 5pm everyone had gone and it was all cleared away.
Overall, including gift aid, the garden party raised over £800.
Key points to remember when planning an event
Set the date well in advance and assemble the team
Make sure everyone has specific tasks so they know what they need to do, what they need to bring and when to arrive.
Have one person to run front of house and another to lead behind-the-scenes
Make sure you have practical arrangements for dana – consider online access, a dana bowl and Gift Aid.