Healing the Fragmented Homeland – Mindfulness in Serbia
A personal story by sangha member, Katarina Gadjanski
It has been my lifelong dream and greatest aspiration to open a meditation retreat centre, somewhere in nature, in beautiful mountains. But it has been only more recently that I realised that this dream was going to take me back to my homeland, a country fragmented by war and trauma, a home that I ran away from in 1994.
I lived through the war in former Yugoslavia for three years and was happy when, at the age of 18, I was able to escape and come to live in the UK.
However, life as an exile was not easy, especially when your own people were perceived as 'bad' and 'violent' and were often referred to as 'war criminals'. In the first few years I did not feel welcome in England, yet I didn't have anywhere else to go.
I was brought up a Yugoslavian, and it caused me so much heartache to watch, from a distance, how my homeland was slowly disintegrating and how hatred and violence were dividing people and countries. When Yugoslavia officially ceased to exist I felt heartbroken, and felt as if I didn't have a home to come back to.
I officially became 'home-less', a person without a homeland. I thought I would never go back, as the new countries that emerged from fragmented Yugoslavia didn't feel like home any more and I didn't want to support the new political system and the division and hatred that they created.
So I couldn't have ever imagined that almost 20 years later I would start contemplating going back there and taking my dreams with me. This has been a very long process, but it started when I realised that I have something to offer to my people and to my 'broken' homeland. The healing that I have gone through I wanted to offer and share with others.
I've been practising different forms of meditation for over 20 years, but it was only since I encountered Thich Nhat Hanh's teachings and practice of Mindfulness that I started to experience true healing. I started to find a 'home within myself' something that I was struggling to find ever since my childhood.
I always felt a calling to do something for my fragmented country and people who suffered so much, through war, political corruption, poverty and discrimination But it's only been more recently that my dream of opening a retreat centre and my aspiration to help my own people, came together.
Last year I was very fortunate to meet David Viafora of Sanghabuild.org who immediately believed in my dream and offered his support. Together we started working on a short-term and long-term plan.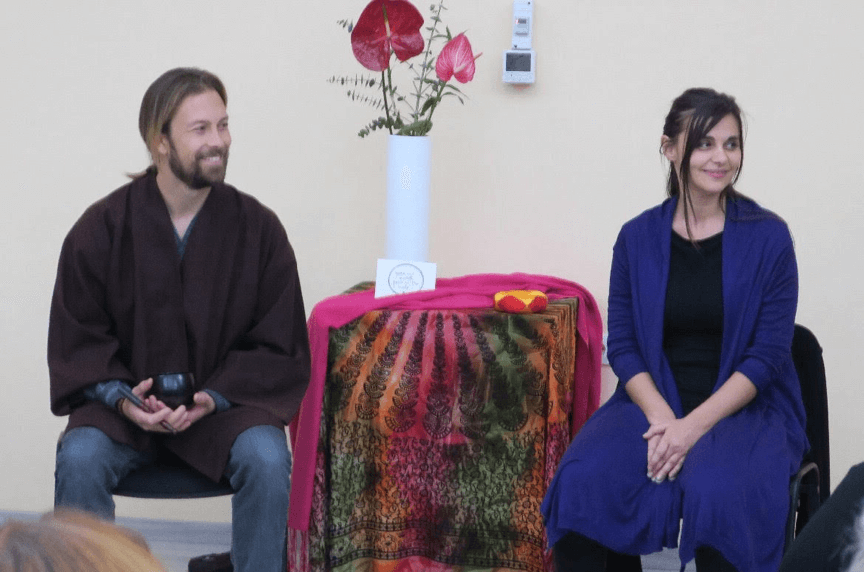 The short-term plan was to start organising Mindfulness meditation events in former Yugoslavia and slowly to start building a Sangha there. A long-term plan is to eventually start working towards opening a meditation retreat centre, once Sangha in that region has become more established.
We decided to start in Serbia, that being the place where I was born and where most of my friends and family still live. As soon as we made that decision all doors started opening. I felt the 'Universe' was supporting us to do this.
Through great generosity and support of one of my friends from Serbia I was very quickly able to organise everything. I found an incredible venue where we could hold a weekend retreat this January, as well as a couple of evenings of Mindfulness (one in Novi Sad and one in Belgrade).
I also received overwhelming support from Heart of London Sangha, both moral support for my project and financial support to help us with expenses of running a retreat. I felt so moved by people's willingness to help me in any way they could.
I used the dana (donations) that I received from HOLS to offer scholarships for people in Serbia who could not otherwise afford to come to a retreat. They expressed deep gratitude for this generosity from our London Sangha.
David and myself were further supported by two sisters from our wider international community: Francie Missbach from Germany and Vanessa Loucky from USA. The four of us arrived to Serbia on January 11th 2018 and we embarked on a beautiful journey together.
For me personally the most precious thing about the whole week in Serbia was to have my spiritual family there with me and to be a part of such a harmonious and supportive group.
Everything that we've done, including our co-facilitation of the events, was so seamless – as if we were just parts of the same body. One Sangha-Dharma body!
We started each day by creating a strong collective energy – meditating together, deep sharing with each other from the heart and sharing our aspirations and what we wanted to offer that day.
Our daily practice also consisted of asking for help from the land ancestors and from our spiritual ancestors. We were carried every day by a collective energy of Mindfulness, mutual support, peace and harmony. It seemed that everywhere we went people felt that and they embraced this energy with arms wide open.
During the events we offered many beautiful practices including loving kindness meditation, deep listening, tangerine meditation, total relaxation, mindful dance and movement, walking meditation and many others.
However, what we offered became almost secondary, because what people really appreciated was the energy of peace, compassion and understanding that our little group was radiating.
It felt as if Thay's teaching was just coming through us, through our way of being with ourselves and with each other – and we were just a channel.
At the end of the retreat one of the participants expressed with tears of gratitude in her eyes that she felt like she was on 'planet of love' for the whole weekend. That really resonated with me as it sums up my own experience of the whole week.
Usually when I go to Serbia I quickly get pulled into the collective negativity and trauma of the country. However this time, with the support of our lovely community, I felt pure love, happiness and gratitude.
I went to Serbia believing I have something to offer, but I received much more than I feel I've given. The generosity and kindness with which Serbian people received us moved all four of us.
Their openness and hunger for spiritual life really touched us deeply. In the country where after-effects of the war, poverty and political corruption are still quite strong – there is a real thirst for another way of life.
There is thirst for peace, harmony and sense of loving community. It was such a privilege to be able to bring a little bit of that into these peoples' lives and to give them hope that happiness and peace are possible even if the outside circumstances are difficult.
I would like to end with a quote from Thich Nhat Hanh's latest book The Art of Living which resonated with me deeply and which sum up my whole experience of doing this project in Serbia with a support of a loving community.
A beloved community is a community of people who share the same aspiration and want to support each other to realise that aspiration. If we want to grow on our spiritual path, we need a community and spiritual friends to support and nourish us.
And in return, we support and nourish them, like cells in the same body. On our own, without a community, we cannot do much. We need a community of like-minded friends and colleagues to help us realise our deepest dreams.
The key elements in a beloved community are love, trust, joy, harmony, and brotherhood and sisterhood. When we can generate understanding and compassion in our way of being and working together, everyone we interact with feels that energy right away and is able to profit from it.
~ Thich Nhat Hanh
We are going back to Serbia in early June and then again in autumn 2018 to offer further Mindfulness meditation and retreats. If you would like to find out how you could continue to support us to do this work in former Yugoslavia please feel free to email me at: katarina@four-elements-dmtm.com
With gratitude,
Katarina