Breathing in the City – the return of the London Mindfulness Hub
Last summer saw the start of an exciting experiment: The London Mindfulness Hub. In addition to retreats, the monastic brothers and sisters from Plum Village and a team of dedicated volunteers took over a venue at the top of Brick Lane to create a 'pop-up monastery' right in the midst on London's busyness.
This Spring, against the odds, the London Mindfulness Hub returned. Although conversations have been started with Plum Village, there were complications and just a few weeks beforehand, it did not seem possible but there was a decision to go ahead on a smaller scale than the previous year and a team of wonderfully dedicated volunteers worked miracles to make it happen.
Brothers Phap Lai from the UK, Phap Tien from Vietnam, Bao Thich from India and Dai Dung from Malaysia formed the monastic delegation from Plum Village.The result was a number of powerful events across a two week period. The monastics and the organising team were careful to take care of the various needs in London and included a 'bring a friend' session for those new to mindfulness as well as a 'deepening your practice' session and time for the volunteers who run the Heart of London and Wake Up groups to come together.
The brothers encouraged people involved in volunteering to run Sanghas to practice Beginning Anew regularly and created a space for volunteers to practice flower watering; recognising the positive qualities they saw in each other.
Other highlights included a walking meditation and picnic in Victoria Park and a Day of Mindfulness with over a hundred people.
The brothers visited a school to offer mindfulness to the staff and students as well as spending time exploring the city.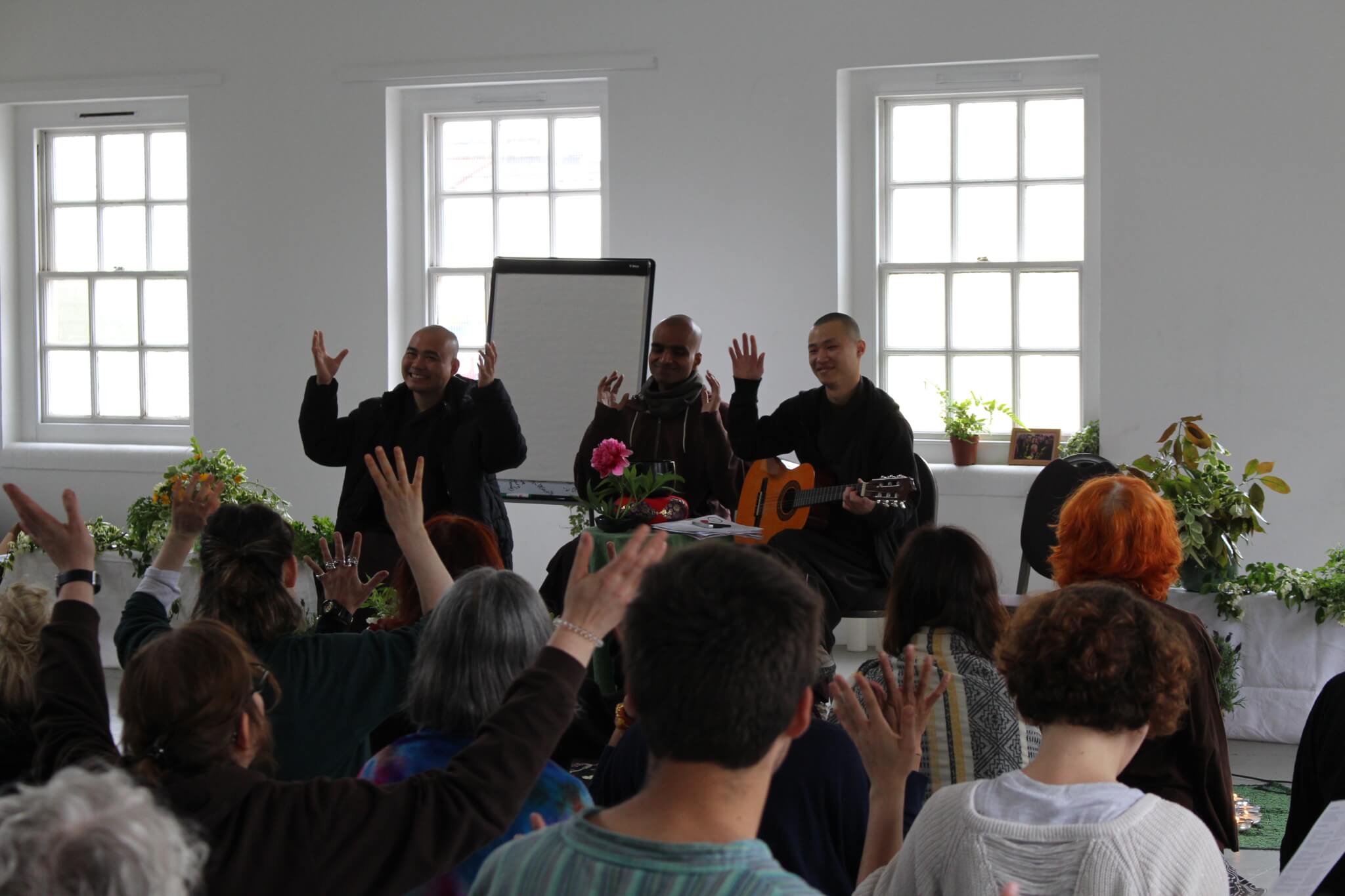 Volunteer Martha Wright shared: "It was to practice bringing mindful practice into everyday London life. It was so nourishing to be working alongside the volunteers and monastics in a way that prioritised joy, peace and compassionate love and still within the business of the city. It was a gift to experience that this way of working really is possible in London."
Renuka Bakta a member of the Heart of London Sangha shared: "I found the Day of Mindfulness I attended was amazingly organised, beautiful flowers and plants, in a large room filled with both new and experienced practitioners from Wake-up, Heart of London and other sanghas. It was relaxed, engaging and fun. My highlight would be arriving and meeting so many friends, saying hello, seeing our sangha connecting with each other, the lunchtime mindful walk in the sunshine and the relaxed way of hanging out at the end saying goodbye."
At the heart of Thich Nhat Hanh's engaged Buddhism is the message we can practice mindfulness wherever we are. Of course, a practice center provides supportive conditions and it can be so beneficial to spend time on retreat, but the London Mindfulness Hub again showed us how possible it is to bring awareness to our daily lives right where we find ourselves.
If you are in London or within reach of London, cross your fingers that conditions will be sufficient for another London Mindfulness Hub with Monastics from Plum Village in Spring 2019.