Being Peace Practice Centre: Garden Party Fundraiser in Bristol
The Bristol White Clouds Sangha held a summer garden party and all-day brunch in June 2023 to help raise funds for the Being Peace Practice Centre.
Hilary, one of the organisers has shared the experience of the day with us:
It was held in my garden from 11am to 4pm and we were blessed with perfect weather. It was very much a joint effort by sangha members and proved to be a delightful sangha building project. Five of us met twice on line to agree the date and work out the logistics of food, additional chairs, cutlery, crockery etc. There might have been some texts and phone calls between us as well!!!!
We were very fortunate in that my lovely daughter offered her graphic design skills and produced a wonderful web-based invitation which you can see here: https://rarellanotempler96.wixsite.com/gardenfundraiser. This included a link to the "Give as you Live" page which I had previously set up specifically for this event: https://donate.giveasyoulive.com/fundraising/being-peace-practice-centre-fundraiser
It was very easy to do and meant that gift aid could be collected directly (which really helps the UK Sangha treasurer). The invitation included an RSVP button so we could keep an eye on numbers – also very useful. We sent the link out to everyone on our sangha email list as well as others who we thought might be interested. In the end around 50 people came.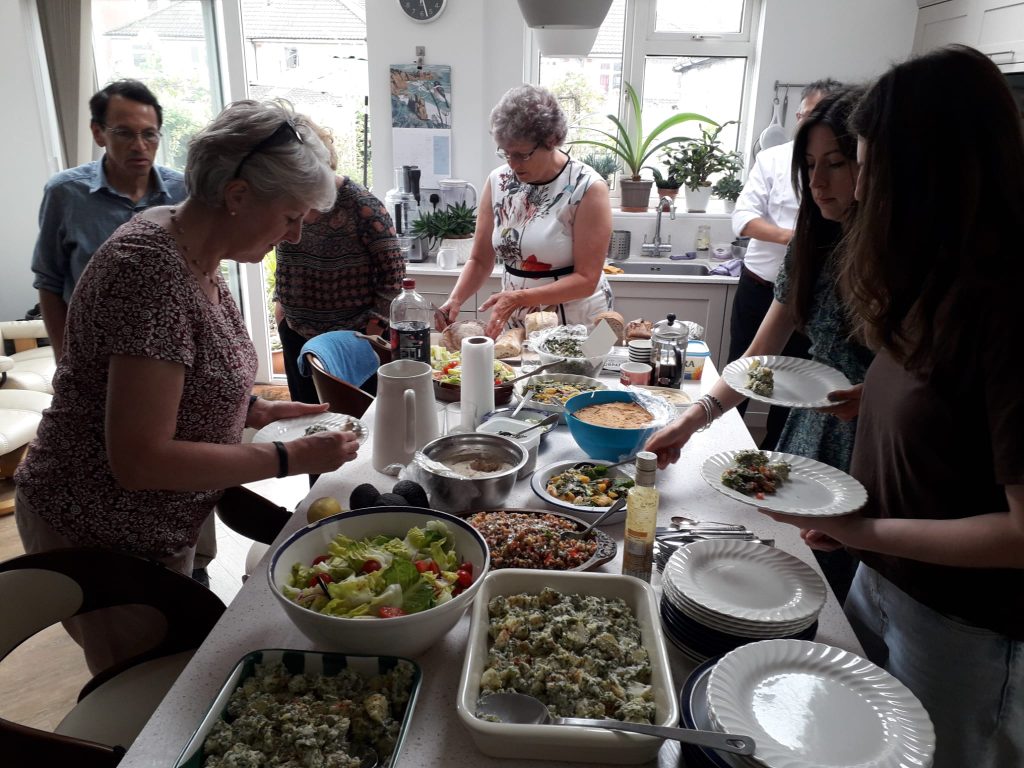 The all-day brunch aspect worked really well as visitors came and went during the day, although we had quite a large group during the lunch period. Sangha members brought a large amount of delicious breakfast and lunch food – and astonishingly it all went. So, satisfying not to have to deal with left overs! The rain started just before 4pm which triggered a flurry of activity as everyone cleared away all the garden furniture. Most visitors left and sangha members and friends set to clearing up the kitchen. By 4.30 everything was tidied away, the kitchen was clean and everyone left in good spirits.
With gift aid, we raised over £800. The "Give as you Live" page meant that people who couldn't come were able to make a donation anyway, and those who came also donated through the web-page either beforehand or on the day. We also had a dana bowl available on the day. Ian, at the COI bookshop, donated some old stock so we were able to set up a small bookshop which added to the promotion of Thây's teachings. We had available postcards of Thây, cards with Thây's calligraphy, some of the 'How To' series of books as well as booklets about the BPPC and Bristol Sangha leaflet.
The day was a success, partly due to a joint effort amongst a core group of truly lovely sangha members and to whom I am very grateful – you know who you are ?, but also because it was bedded in community, my family, friends, neighbours and the wider Sangha. Coincidentally it was also my birthday. Tapping into that network to seek support is often a rich source of giving, as it was in this case.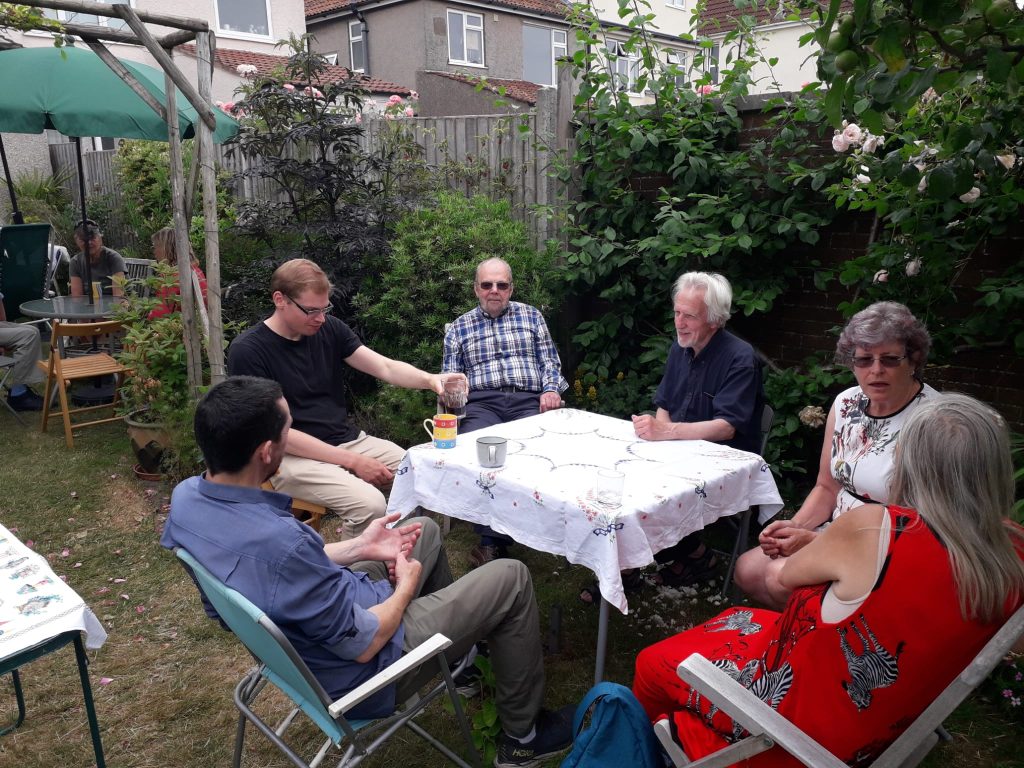 Thank you so much Hilary and White Clouds Sangha in Bristol for your generosity and support in making Thay's dream of setting up a practice centre in the UK.
If you or your Sangha would like to contribute, organise a fundraising event or get involved in the available challenges, please visit www.plumvillage.uk/beingpeace/#waystofundraise or email beingpeace@plumvillage.uk.