Be Calm, Be Happy is a mindfulness course sharing simple and concrete ways to generate energy and wellbeing and release the stresses and strains of daily life.
Specific benefits:
Increased enjoyment of life
Increased ability to be calm and relaxed
Increased ability to deal with challenging emotions
Improved sleep quality
Fewer feelings of anxiety and low mood
In the 6 sessions, you will learn how to meditate effortlessly, so you can ease painful thoughts and emotions; you will also be encouraged to use mindfulness practices to bring joy into your daily life.
"This has been a life-changing experience"
"What I have gained from the course has given me real optimism for a calmer and happier future"
Course Experience:
Mindfulness is a way of experiencing life with increased calm and happiness. It is rooted in Buddhist meditation, with effects verified by neuroscience, and as such is open to non-Buddhists and Buddhists alike. Everyone is welcome.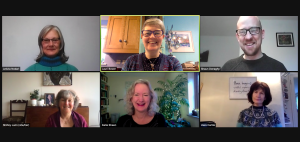 Recent participants have found it helpful in relation to the specific circumstances we are currently facing as a world community. We particularly welcome people struggling with stress for whom life has been difficult lately, folks from marginalised groups, and health and social care workers who offer support to others.
Be Calm, Be Happy is run by Plum Village UK, a charity created to share the mindfulness teachings of Thich Nhat Hanh (often referred to as 'the Father of Western Mindfulness', nominated for the Nobel Peace Prize by Martin Luther King Jr. and author of numerous best-selling books). Our Course Leaders are practitioners trained to empower you with mindfulness skills for life, which can support personal and community wellbeing.
We invite you to join this course comprising guided practices, small group discussions and practical exercises.
"Thank you so much for assisting me to further my journey in such a lovely, peaceful way"
"I've experienced a very real shift in my ability to be present and enjoy simple things"
Course content
The six sessions of the course explore the following themes:
Stopping and calming
Turning to the positive
Loving communication
Nourishing happiness
Interdependence and community
Guidelines for a happier life
Commitment
For this course to be most effective, we recommend that you commit to attending all six sessions and be aware that creating a stable and strong practice of mindfulness is a habit that needs regular, ideally daily, practice. If you know ahead of time that you cannot make a session, then please discuss with your Course Facilitator so that you can understand the content of the missed session. Please note, you will be using a computer/laptop, iPad, phone or device with internet access, and will need a functioning camera and mic. (remove bold)
Feedback from the online course – "The supportiveness of the whole group was lovely, and I was surprised to be able to feel that with an online course. I came away from each session feeling calm and happy".
Course schedule
The 'Be Calm, Be Happy' course is facilitated over 6 sessions on weekdays, evenings, and weekends. Once you book onto a course you will be able to attend with the same group at the same time each week.
This is a live, interactive course, not recorded sessions to download.
Once you book onto the course you will be invited to a brief pre-course Zoom call, to meet the Course Leader and smooth out any potential difficulties in joining Zoom before the course itself starts.
Course Leaders
Experienced mindfulness practitioners, Ian Sneath and Clare Carlile will be leading this course.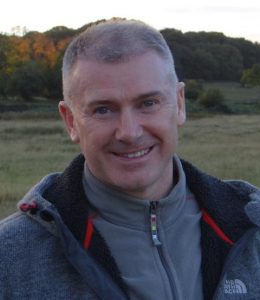 Ian has recently returned from living in Plum Village for two years, this experience allowed him to immerse himself in Thay's deep-wisdom mindfulness teachings.
Ian discovered Thay 12 years ago after studying various mindfulness teachers. In 2014 he attended the 21-day retreat, "What happens when we are alive, what happens when we die?" led by Thay. This was a deeply powerful, healing, and transformative teaching that made Ian stop, look deeply, and realise that he had been on the wrong entrepreneurial path for most of his life. Mindfulness has given Ian so much benefit, helping every aspect of his life (ethics, health, relationships, compassion, insight, concentration, livelihood, peace, kindness, openness, etc) and his volition is now to dedicate his life to continuing to deepen his practice, to lead a happy and joyful life and to help bring Thich Nhat Hanh's teachings to others.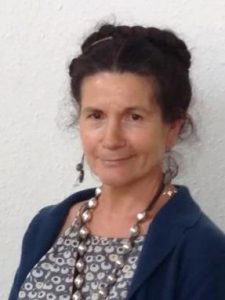 Clare first encountered Thich Nhat Hanh's teachings through his books and subsequently retreats from 1998. She became increasingly committed to her daily practice with the support of the Sanghas in York and Kirkbymoorside, and it is now a central part of her life.
The Plum Village tradition has enabled Clare to work with the demands of a complex life managing a large shared household to benefit the needs of adults with special needs, alongside bringing up her own four children. She provided guidance and teaching for young interns over many years. Clare's mindfulness practice is deeply rooted in her daily practice which includes drawing and painting in the Helmsley Walled Garden. Clare studied Fine Art at Newcastle and completed her postgraduate degree at Edinburgh. Clare's practice transforms and enlivens everything she does.
Ticket pricing
In offering a range of ticket prices we aim to make the course available to as many people as possible.
These options will be available once you choose a start date by navigating to 'Select a Date' and then, click on 'Tickets'.
Frequently Asked Questions…
What if I miss a class?
It is ideal if you can make all the classes as this way you will gain a sound foundation in mindfulness practice. If you have to miss a class and know ahead of time, do let your course leader know.
What further information will I receive?
You will receive "Joining Information" in a confirmation email once you have purchased your ticket. This will confirm the information on the class timings, and how to access the online course. You will receive a further email directly from the Course Facilitator in the week before the course starts, inviting you to a short pre-course zoom call.
What is your cancellation policy?
If you cancel your booking at least 7 days before the start of the course we will refund your full course fee minus a £15 administration fee.
If you cancel your booking less than 7 days before the start of the course we will issue a 50% refund of the course fee.
Once the course has started no refunds will be issued.
If you have any questions please contact us via hello@plumvillage.uk
What is your transfer policy?
You can transfer to different course dates, please give us at least 7 days notice before the course starts.
After the course starts, we do not offer transfers onto other dates.
Time Zone
This is a UK based event. If you are joining us from outside the UK, you may wish to use a timezone converter such as WTB: https://www.worldtimebuddy.com/
Learn more about Plum Village UK
For more courses like this please follow this link https://plumvillage.uk/learn-mindfulness/
We recommend that everyone signing up for this course becomes a member of the Community of Interbeing (Join Us ).
How to attend
Please book via eventbrite
Book now