Welcome to our Sunday Sangha Special on 6th October.
UK Lay Dharma teacher Dene Donalds will offer us a guided meditation and short talk on the Diamond Sutra.
The Diamond Sutra has fascinated Buddhists for centuries because of its insights into dualism and illusion: the "diamond" can cut through any obstacle on the road to enlightenment. It offers us alternative ways to look at the world in its wholeness so we can encounter a deeper reality; develop reverence for the Earth and more harmonious communities, families, and relationships; and act in the world skilfully and effectively.
In the Diamond Sutra, the Buddha responds to a disciple's question about how to become a Buddha. The Diamond Sutra presents a dialogue between the Buddha and his disciple, Subhuti, which illuminates how our minds construct limited categories of thought. The answer: we must move beyond personal enlightenment to follow the path of the Bodhisattvas, fully enlightened beings who postpone Nirvana in order to alleviate the suffering of others.
'The notion that things can exist independently of one another comes from the perception that they have a beginning and an end. But it is impossible to find the beginning or end of anything.' The Diamond that Cuts Through Illusion – Thich Nhat Hanh 1992, page 60.
This Sangha event is an opportunity open to all to come along and enjoy; please arrive early and we will begin precisely at 5 pm. We will close the meeting with goodbyes at 6 pm.
We hope that many friends and newcomers will enjoy Dene's mindful insights.
Dene Donalds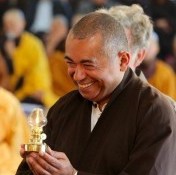 Dene was ordained by Zen Master Thich Nhat Hanh in 2007 into the Order of Interbeing and as a lay Dharma teacher in 2016.
Dene has been practising and studying the Dharma since the mid-nineties. He visited Plum Village for the first time in 2001. Deeply moved by the practice and teachings of Thich Nhat Hanh, he chose to receive The Three Jewels and Five Mindfulness Trainings of the Plum Village community.
Dene offers Thays teachings and Buddhist Chaplaincy within Prisons and helps manage a social enterprise facilitating advocacy and co-production with people with learning disabilities and autism. He practices with The Heart of Transformation and Colours of Compassion Sanghas.
How to attend
Please register to receive the Sunday Sangha Zoom link.
Register