Image of a Scale Force Waterfall, Cockermouth, UK by Jonny Gios
Welcome to our next Mindful Morning on Sunday 3rd July 2022 (10-12 UK time), open to everyone with an interest in the Plum Village mindfulness practice:
'Radical Joy for Hard Times'
In this short session, we will be guided to sit with belonging with Earth. We will be invited to explore how bringing ourselves to awareness of Earth opens up an experience of Earth being aware of us.
How does this reciprocity show up in landscapes that are challenged, wounded or have legacies of manipulation by humans? We will explore the edge of this awareness and how we experience Earth in difficult circumstances.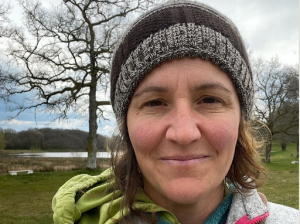 Harriet Sams
Harriet Sams is an archaeologist, ecotherapist, freelance lecturer, yoga teacher, member of the Order of Bards, Ovates and Druids, mother and student.
From a very young age, Harriet has been in close connection to the landscape; especially to ancestral messages that are all around us, written onto the landscape. On rare occasions, the Voice of the world speaks to her and calls her into Service and Harriet interprets these messages as the voice of the ecological Whole; indivisible between human ancestor and landscape, all speaking with one voice. Through this awareness, she has realised that the land itself is where the healing resides. Harriet's work is all about helping participants to directly access the healing the land/ancestors can bring the individual, working as a facilitator for this awareness and guide for support.
Druidry, Buddhism and Quakerism guide her work; aspects of these spiritual traditions weave themselves into her teachings and offerings.
She is currently undertaking a PhD in archaeotherapy with Bournemouth University and is on the advisory board for Radical Joy for Hard Times, an eco-spirituality charity. Please see www.radicaljoy.org and www.nwyfre-earth.co