"I have a new poem as a 'going home' present"
"Lauri is an excellent facilitator, very experienced, and creates a nurturing environment" (participant feedback)
Playing with Words
Through mindful exercises, playful writing reflections and group feedback you will have opportunities to explore the benefits of writing on a regular basis and its healing properties. You will be guided in a series of exercises involving writing and personal reflection through the day. Openness is encouraged but you won't be asked to share more than you are comfortable with.
The workshop is for a maximum of 12 people. If you are booking for more than one person from the same house, please register each name individually.
It is offered online through zoom to make it accessible. You will need a device that can connect to the internet (ideally a computer, laptop or iPad, a smartphone also works).
Schedule (UK time)
09.20 – arrive and settle
09.30 – welcome, orientation, guided meditation, mindful writing exercise 1
10.50 – mindful tea break (offline)
11.10 – mindful meditation and writing exercise 2
12.15 – lunch break (offline)
13.30 – guided meditation and writing exercises 3 & 4
14.50 – comfort break
15.00 – mindful exercise 5, playfulness
15.40 – final sharing
16.00 – close
Who Can Attend?
This workshop is open to everyone, especially the courageous of heart and the adventurous and those who think they can't! ?It is suitable for beginners to mindfulness and writing as well as the more experienced in either area. I invite everyone to put aside their previous knowledge and experience (or lack of it!) and bring a Beginner's Mind.
Cost of the workshop
The cost of the workshop is designed to make the workshop available for everyone, regardless of your current financial circumstances. Please choose the ticket price you can realistically afford without depriving yourself and your family or dependents.
Facilitator
The facilitator for this workshop is Dr. Lauri Bower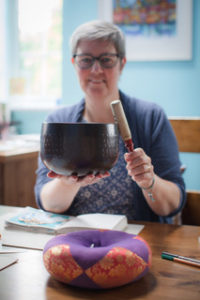 Lauri has 30 years' experience of meditation practice and 15 years of running and organising retreats. She taught Mindfulness Based Stress Reduction (MBSR) courses from 2013, which expanded into Mindfulness and Creativity retreats, workshops and courses in 2015. She completed a Ph.D. in Mindfulness in 2014. She teaches our own Be Calm Be Happy course, since 2016. She is firmly committed to the Plum Village approach to mindfulness and received the transmission of the 14 Mindfulness Trainings at Plum Village in 2014 to become an Order member.She has always engaged with creative pursuits in sewing, dressmaking, embroidery, calligraphy, jewellery and bookbinding and since 2012 has been exploring how the practice of mindfulness informs her writing, particularly poetry. She regularly posts poems to her blog and her creative work to Instagram. She sells handmade books, cards and original artwork through her website.
FAQs
What materials do I need?
You will need a notebook or journal, and pen or pencil. For the meditation periods you may want a blanket or shawl for warmth. You will need whatever art materials you already have for the playful afternoon session, such as larger paper (ideally A3) and crayons, paints etc. Please don't make this a big deal! Use whatever you already have. If you don't have A3 size paper you can use 2 sheets of printer paper together.
What is my expected contribution to the day?
There will be times during the workshop when I ask for feedback on your experience of the exercises. You absolutely do NOT have to read out anything you have written, unless you wish to. I aim to create a safe space for people to feel happy in sharing but only share as much as you are comfortable with.
What can I expect on zoom?
Although we will be connected via zoom for long periods, when you are writing please move away from the screen (leaving it open so you can hear any instructions or comments) and make yourself comfortable. You do not have to sit looking at the screen the whole time. Please write rather than type (they are very different experiences!)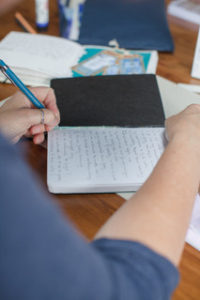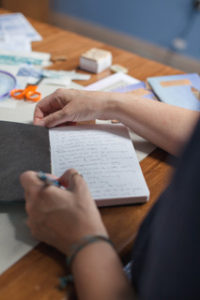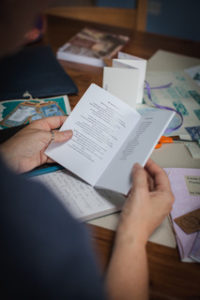 What further information will I receive?
You will receive a confirmation email once you have registered with a zoom link. Please keep this email safe and save the date and time once you have registered.
What is your refund and cancellation policy?
If you need to cancel after booking, please note the refund policy.
• The full amount (minus the Eventbrite fee) will be refunded up to seven days before the workshop
• 50% will be refunded if less than seven days before the workshop
• No refunds are given once the workshop has started
Do you have any other questions about the Playing with Words: Mindful writing workshop? Please contact Lauri at: bcbh@plumvillage.uk
How to attend
Please book via Eventbrite
Book now