Image of a Lotus by Monica Max West
Welcome to our upcoming Mindful Morning on Sunday 3rd April 2022 (10-12 UK time), open to everyone with an interest in the Plum Village mindfulness practice:
'The Blooming of a Lotus – Finding peace in an uncertain world'
Join us for a guided meditation and a talk from our beloved friend, Sita Brand of Dales View Sangha. Afterwards, there will be an opportunity to connect in Dharma Sharing groups.
When the pandemic struck, a community of practitioners from around the world gathered together to practise the daily meditations from Thay's book The Blooming of a Lotus. The group has changed over time but the meditations and insights deepen. Sita lost twenty people (family, friends, colleagues) during the course of the pandemic. Sita will share with us the story of how these meditations, shared by our respected teacher, bring comfort and a way to achieve the 'miracle of mindfulness' in a challenging world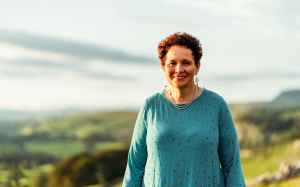 Sita Brand
Sita began her spiritual journey with the Church of North India and Quakers. In her teens, she began to practise meditation and learn more about Buddhism. In the late 90s, she travelled through Malaysia and was ordained briefly as a Buddhist nun in Northern Thailand. On the eve of the millennium, she met Thay in Plum Village. She received the 5 Mindfulness Trainings in 1999 and received 14 Mindfulness Trainings from Thay in 2006, with the name True Lotus Wisdom. She is also a storyteller.

This event coincides with the pre-launch of the newly revised and expanded version of Thay's book The Blooming of a Lotus: Essential Guided Meditations for Mindfulness, Healing, and Transformation, which is available to pre-order. Also, currently published copies are available right now from our online bookshop. For more information, contact our book service.
How to attend
This mindful morning is open to all and held via Zoom. Anyone can join who has downloaded the Zoom software. To be added to the mailing list and receive the meeting link, please register below using your best email.
Register